I don't know why you learned to knit.
Maybe you started knitting as a form of self-care, maybe you wanted to bond with a friend/neighbor/relative, maybe you wanted to knit a blanket for the cutest new kid in your life – whatever the reason, you're starting to flounder.
Knitting was fun, but you have a busy life. "Maybe I'll have time to knit tomorrow," you said, nearly a month ago.
Meanwhile, when you finally do get back to your knitting, it's like starting over on day one.
I feel you. It's no fun looking up tutorials for stitches you knew how to make a week ago.
This post is for you, my super ladies, who try to do it all, including knitting.
These are my favorite places to knit when you have no time.
1. Lunch break. Does anyone still get an hour for their lunch break? I've only ever had 30 minutes, which is just enough time to grab something and stuff it in your face, BUT if you're one of the lucky ones, don't go back to the office early, hang out on a park bench and get a few rows in.
2. Work meetings/conferences. If you have a chill boss, he or she might be happy to let you knit away. (Just explain that it helps you concentrate!) Either way, I know you have phone and web conferences where face time isn't required. Bam – better listening skills AND you just finished that sleeve.
3. Waiting rooms. Waiting can really suck. The best advice I've seen is to focus on your breath, be present, and spend some time with yourself, but that's not always easy to do, especially if you can't stop thinking about the germs flying across the room from that gross person that can't stop hacking and coughing. Whether you're waiting a few minutes or an hour, have your knitting handy.

4. Happy Hours. Okay, a lot of people are uncomfortable with this one. It's weird to be the only person knitting, especially when everyone's sharing the latest gossip and trashing that client from hell. But the thing is, in between pounding beers (or tea, depending on the group!), it's nice to have something to occupy your hands. And trust me, it's only weird the first time you pull it out. Then everyone thinks you're that cool girl that will knit them something.
5. Movie/TV nights. I'm all about bonding with family and friends, and sometimes that means you all get together, order a pizza or tacos, and watch some TV. It can be fun, but let's be honest, your friends and family don't always have the best taste in shows. When it's not your turn to pick what you watch, grab your knitting. It helps get you through those awful, awful jokes.
6. Commuting. If you drive to work, then maybe skip this step. But if you take the train, the subway, a bus, or carpool, you should definitely whip out your needles. There's really zero point to focusing on the traffic, worrying about if you're going to be late, or attempting to get a jumpstart on your email – there will always be more emails!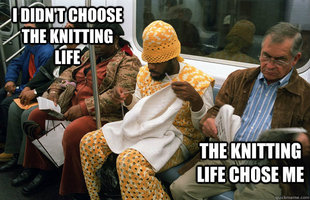 7. Sporting events. I'm not going to lie – I really don't understand the point of a lot of sports. Sure, sometimes it's exciting, but then there's 10 minutes of downtime for every 3 minutes of play, and what's the point of that? But even if you like all that downtime or the atmosphere or whatever brings you there, it's always nice to have something to do while you're waiting for game play to resume.
8. Trains, Planes, and Automobiles. As before, if you're driving, steering, or in some sort of control, pass on the knitting. But if you're taking a trip somewhere as a passenger, you have to take your knitting. I know you packed a book, some sudoku puzzles, and even a magazine, but I promise, and you know this, you're going to get bored with those things after an hour, tops. And then what? Oh gosh, ESPECIALLY if you have a layover. Your coffee and pastry don't last forever, and you can only watch so many planes take off before your thoughts turn dark and you begin questioning your life decisions while listening to – somehow – the most annoying collection of people ever assembled. (And yes, you can take knitting needles on domestic flights – double check for international ones!)
So get to knitting in your free time, and soon you'll be a champion knitter, and no one will be able to stop you.
Once you have the stitches down and you feel like a real knitter, you can even justify spending more than $15/skein!
And then, before you know it, you'll be old and gray and still knitting projects as awesome as you are.